A castle tower is a symbol of the whole of the castle site, and people like to see their castle tower as the symbol of their town. In many cities, castle towers were newly reconstructed but there is no castle tower in the Edo castle in Tokyo.
Sometimes people who want a castle tower also in Tokyo, campaign for its reconstruction, but there is no castle tower even now.
Edo is an old name of Tokyo. Before 1600, the center of Japan was Kyoto in western Japan. Edo, a small village in eastern Japan, was far from the political and cultural center.
☆1  Edo castle around 1600
The small Edo castle was originally built by Ota Dokan in 1457. In 1590, by Hideyosi's order, Tokugawa Ieyasu had to move to the small village of Edo. He enlarged the old castle. The castle became the center of Edo town, and it gradually expanded.
(Now 400 years later the population of Tokyo is 12,000,000. )
The first castle tower was built in 1607, but in order to show the authority of the Tokugawa shogunate during the era of the 3rd Shogun, Iemitsu, a bigger one was made with five stories, 57 meters high above the ground in 1638. It used to be a magnificent castle tower larger than Osaka Castle tower.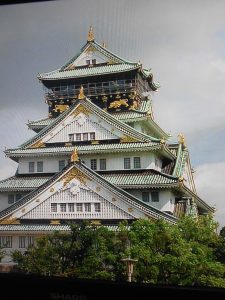 But only 19 years later, Honmaru (main building), Ninomaru (second building ) and the castle tower were all burned down by the " Big Fire" in 1657.
Two years later, as the castle buildings were gradually rebuilt, a high ranking person in the Tokugawa Shogunate said that a castle tower should be rebuilt too. At that time, Hoshina Masayuki, the general consultant of Shogun, advocated that "It's already 50 years after wars ended. The castle tower is not necessary now. People's living is more important".
Eventually the construction of the castle tower was postponed. It was postponed till the end of Tokugawa period, and it has been postponed until now.
There is a pedestal part of the castle tower now in "the East garden" of the Imperial Palace near the present Tokyo Station.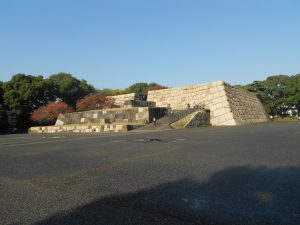 The old Edo castle became the Imperial Palace for Tenno (Emperor ) after the Meiji restoration (1868). This may be a big reason why it was not rebuilt after 1868.
☆2  Hoshina Masayuki
Hoshina Masayuki (1610~1672) is not a well-known person, but he was a distinguished lord who became the founder of "Aizu Han" (clan). Because Aizu Han fought against the new government army at the end of Tokugawa period (19C ), it was on the losing side. That may be why he is not spoken of much in the history.
Masayuki was born as a child of the 2nd Tokugawa Shogun, Hidetada. Hidetada's formal wife was "Ogo" , who was Oda Nobunaga's niece. Ogo was seven years older than Hidetada and strong-willed. Usually at that time, lords had some wives, because a son, a successor, was very important. But Hidetada couldn't have other wives, because of Ogo's strong jealousy.
Only once he had a chance for a concubine and a baby was born of her. That baby was Masayuki. He was born under the fate of being targeted by assassins sent by Ogo, as soon as he was born.
Because it was dangerous if the baby stayed in Edo, he was adopted as a son of Hoshina family in "Takato" ( Nagano), where he was carefully brought up by his mother and the warm people of Hoshina family.
The 2nd Shogun Hidetada already had two boys, Iemitsu and Tadanaga. The first son, Iemitsu, was brought up by a strong nurse, Ofuku (Kasuga no Tsubone). It was the custom of that time. He grew up without being loved by his mother, Ogo,in the feud between Ogo and Ofuku.
Ogo wanted to raise her second son, Tadanaga, at her own hands. She doted and spoiled him. The surrounding people were gradually beginning to think Tadanaga would be the next Shogun.
So Ofuku appealed to Ieyasu who was in Sumpu Castle (Shizuoka), and Ieyasu went to Edo Castle to make it clear that the next Shogun was the oldest son, Iemitsu, in front of everyone. "The wars have ended, and everyone should keep in mind that the order of old and young is important so that conflicts would not occur in the time of peace now and in the future."
The second son, Tadanaga, who grew up with the feeling that he was loved by his parents and was supposed to be the 3rd Shogun, behaved as he liked. He didn't obey Iemitsu's opinions. At last, Iemitsu ordered his younger brother, Tadanaga, to kill himself when he was 28.
The third son, Masayuki, grew up and began to work in Edo castle. Iemitsu liked to ask Masayuki to work for him and Masayuki worked for Iemitsu with a modest attitude. Masayuki became the lord of "Takato Han" when he was 21, and 6 years later he was transferred to "Yamagata Han", and then 7 years later, to the big "Aizu Han" (Fukushima). He started working in an important position in the Tokugawa Shogunate government in Edo as well.
After Iemitsu died in 1651, Masayuki assisted Iemitsu's son, Ietsuna, who became the 4th Shogun at the age of 11. Masayuki worked sincerely for Tokugawa family as a practical deputy Shogun.
☆3 " Big Fire " in 1657
In the "Big Fire" in 1657 Edo city burned for three days and two nights and scorched more than half area. More than 100,000 people died. Masayuki ordered that anyone who helped to put out the fire of rice warehouse of Shogunate government in Asakusa Kuramae could bring out the rice freely without permission.
He also ordered to collect the burned dead bodies in Ekoin temple. In order to resolve the shortage of rice even a little, he let the Daimyos (lords) return to their home countries. He carried out many good ideas one after another that ordinary people could not think of.
In the fire a lot of people burned to death because there was no bridge across Sumida river to escape to the other side. He constructed a big bridge over the river, and made a wide street to avoid the fire of spreading at Ueno Hirokoji, and also made a new reconstruction plan of Edo city.
Besides that, Masayuki opened the Tama river waterworks for the people of Edo.
During the era of the 2nd Shogun, Hidetada, and the 3rd Sgogun, Iemitsu, a lot of Daimyo families were destroyed by Tokugawa government, and there were a lot of "Ronin" who did not belong to any "Han", with no work, no income. Masayuki tried to help them.
In "Aizu Han" of his own country, he carried out good management such as stockpiling rice for the time of famine, and a welfare system like a pension for old people over 90 years old.
Everyone was convinced because Masayuki, such a selfless, ideal personality, said, "The castle tower is not necessary. We should do things for the living people better than that."
☆ 4 Why was Masayuki an ideal politician who was always thinking about Tokugawa family and the people and implemented various policies?
He was aimed at life from the time he was born, brought up in the circumstances like he could not meet his father, Hidetada, until the end. But he was thankful for being alive and appreciated the people who compassionately raised him. Is it because of the modest idea that he wanted to do something for them in gratitude?
Masayuki kept working for the people so hard. But his wife died young, his oldest son died in the "Big Fire", and his second son died young too. His second wife poisoned his daughter-in-law from jealousy.
But, he assisted the young 4th Shogun, and gave advices to the young lord of Kanazawa Maeda family, his son-in-law, and also greatly influenced to the young leaders of his time.
What the contrast of the lives of three brothers, Iemitsu, Tadanaga, and Masayuki !
In a word
After Edo Castle tower was burned down by the Big Fire in 1657, it was decided not to rebuilt it as Hoshina Masayuki said that people's living was more important than the reconstruction of the castle tower.